A Trello board is a list of lists, filled with cards, used by you and your team.
The idea of a board is to give you a clear view into what I'm working on, what I'm about to work on, and what I'm thinking about working on.
I have individual Teams setup for clients/projects, and new Boards for each site. Using the Scrum or Kanban approach that software developers use to maximise their productivity, I split the Boards up into left-to-right columns such as: Helpful Info, Marketing, Suggestions, To Do, On Hold, In Progress, Quality Assurance, Done, Archived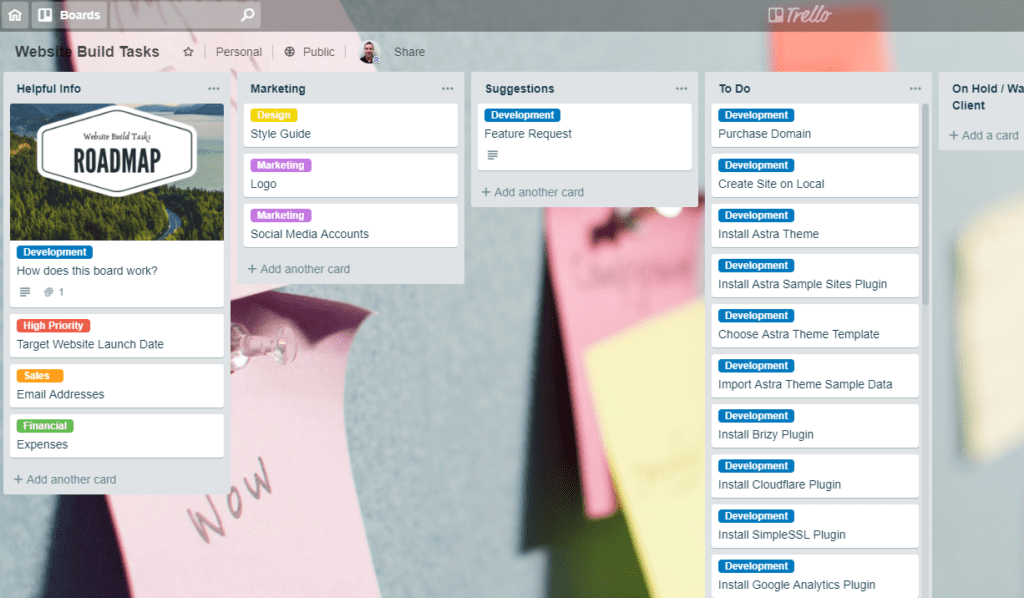 It's just a matter of adding each manageable task into the required column, and drag and drop the virtual post-it notes as I progress through a task.
I'll explain each below:
Helpful Info: Contains helpful information for navigating the client requirements, target website launch date, email addresses, expenses etc.
Marketing: Includes Style guide and branding information for the website, Logo's, Social Media Accounts.
Suggestions: External or internal Feature requests.
To Do: Tasks that are upcoming to be completed.
In Progress: A list of things under construction!
On Hold / Waiting for Client: Tasks that require more information from the client to complete.
Quality Assurance / Testing Required: Tasks that have to be checked by the client for approval and moved to Done, or returned to the To Do list.
Done: Tasks that have been approved and completed.
Archived: Tasks that have been permanently Archived.
Here is a link to the Template I use for website development, feel free to make a copy for your own projects.
Trello 101 – Board Basics
A Trello board only has four key components, but comes with unlimited possibility:

(A) Boards – A board represents a project or a place to keep track of information. Whether you are launching a new website or planning a vacation, a Trello board is the place to organize your tasks and collaborate with your colleagues, family, or friends.
(B) Lists – Lists keep cards (C) organized in their various stages of progress. They can be used to create a workflow where cards are moved across lists from start to finish, or simply act as a place to keep track of ideas and information. There's no limit to the number of lists you can add to a board, and they can be arranged however you like.

A basic (but effective) list setup for a board might be simply To Do, Doing, and Done, where cards start in the To Do list and make their way to the Done list. But don't forget: Trello is truly customizable to your unique needs, so you can name your lists anything you like! Whether it's basic Kanban, a sales pipeline, a marketing calendar, or project management, what matters most is establishing a workflow for the way your team works.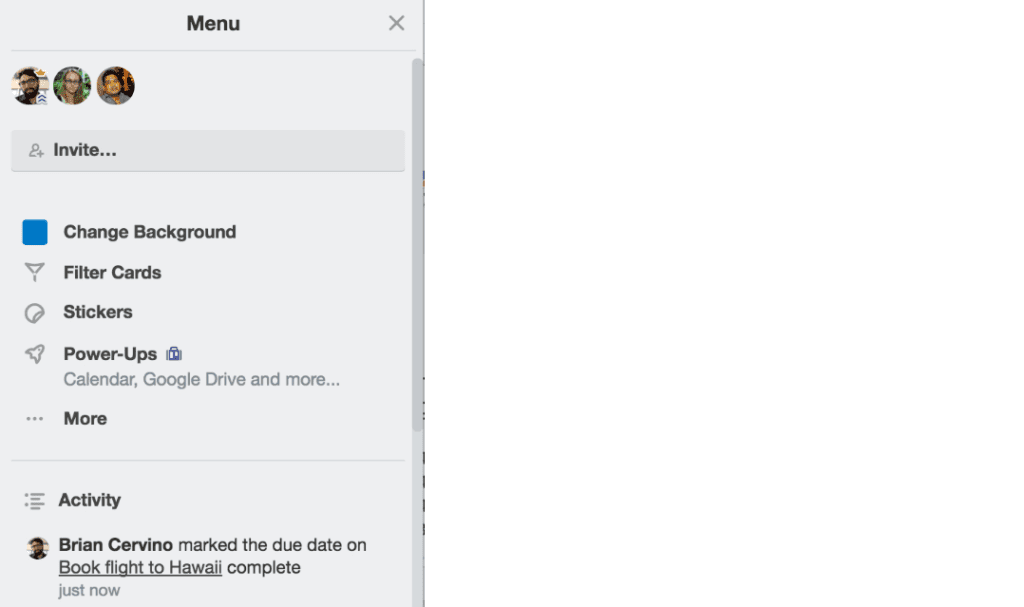 (C) Cards – The fundamental unit of a board is a card. Cards are used to represent tasks and ideas. A card can be something that needs to get done, like a blog post to be written, or something that needs to be remembered, like company vacation policies. Just click "Add a card…" at the bottom of any list to create a new card, and give it a name like "Pick up the dry cleaning" or "Write a blog post."
Cards can be customized to hold a wide variety of useful information by clicking on them. Drag and drop cards across lists to show progress. There's no limit to the number of cards you can add to a board.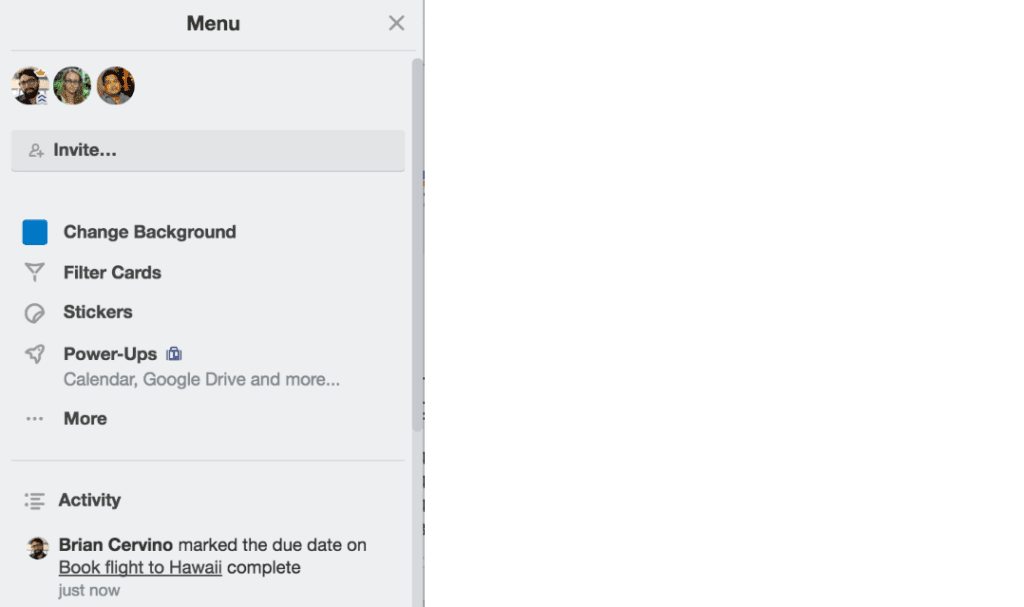 (D) Menu – On the right side of your Trello board is the menu—the mission control center for your board. The menu is where you manage members, control settings, filter cards, and enable Power-Ups. You can also see all of the activity that has taken place on a board in the menu's activity feed. Take some time to check out everything the menu has to offer.